Every year since 2013, the members of the 1-Player Guild at Boardgamegeek has voted for their top solo board games. This yearly list has been an invaluable resource for a solo gamer like me (daughter away at college, wife with zero interest, anti-social gamer even before the pandemic), and has guided all my explorations (and purchase decisions) in board gaming.
Kevin Erskine—just one person!—assembles the 11,047 (!) votes from 618 people and unveils the Top 200 results, 10 games a day. Which games will climb the highest? Which will fall off the top 100? Will Spirit Island still be at the top? (The answer was "yes.".) A lively discussion ensues. For me, it's the BGG highlight of the year.
This year I thought I'd have a little fun with the list and dream up first and last lines, as if it were a story. The list begins below and in subsequent posts.
---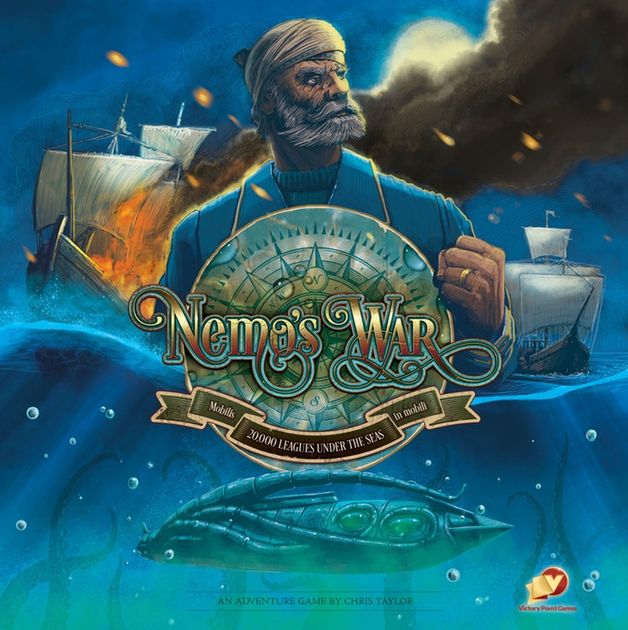 Nemo's War
A game by Chris Taylor.
Last Line:

"I have seen things no mortal has ever laid eyes on!" Nemo cried as the Nautilus fought against being pulled into the horrific churning of the maelstrom. "I have journeyed to all the oceans and sunk warships in every sea! I have smuggled arms to those chained and bound so that they may gain independence from their oppressors! I have traveled the vast forests of kelp, plumbed the unseen depths of the darkest ocean trenches, and fought mightily with the Great Kraken and lived to tell the tale! But still—still!—I am incapable of victory!"